Management Training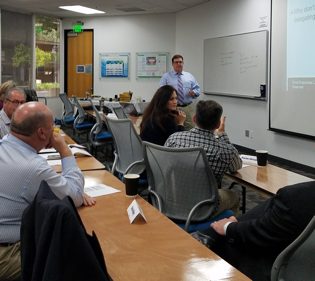 The Gallup Company research shows that the most influential force affecting employee morale is the immediate supervisor. They say people come to work for companies and quit because of managers. Think of your own experience and when you became frustrated at work, what was one of the principal causes?
During many of the management training programs we have conducted the question is asked of the attendees, "How many terrific managers have you worked for in your career?" The typical response is between 1-3 managers in a career. The second question asked is: "If we asked your employees the same question would they identify you as one of their terrific managers?" Often, attendees look at the floor or shake their head no.
Why is it that most managers know what they should do but can't seem to do the right thing? We have conducted many assessments of a leadership team, and when we asked the CEO or department leader to rate the performance and contribution of their direct reports on a scale from A to D, there are always between 1-3 C- to D players on the team. What do you think the impact on the team is with 1-3 C- to D level players?
We begin each assignment by conducting a skill gap analysis, comparing the skills necessary to successfully perform the job and the skills the employees possesses. The gap between the two is where we focus our training for the maximum results. Our training is also focused on compliance requirements.
Management Training Workshops examples include:
The Six Steps to Delegation Success
Building Accountability into Your Organization
Driving Productivity Through Employee Engagement
Recruiting the Best Talent
Active Shooter
Anti-Harassment for Managers
Conducting Effective Performance Appraisals
Creating and Maintaining a High-Performance Team
Managing the Problem Employee
Implementing a Performance Management Program
Building Trust Under Pressure
Setting Performance Expectations
Correcting Performance Problems
How we can help with Management Training
Ernst Enterprises, LLC has the in-depth expertise and business knowledge to assess the managers and leaders in your company and develop programs to improve their skills at managing employees more effectively. Mark Ernst is a certified instructor in both Achieve Global and DDI programs which gives us access to a broad based curriculum